Do you have a live event in Greater Los Angeles Area and need an affordable live webcast solution? While we've always been able to travel to anywhere on the planet, Adrenaline Garage now offers a NewTek TriCaster 455 with a highly experienced operator local to your area. No need to pay for flying in equipment and crew--we've got you covered in Southern California.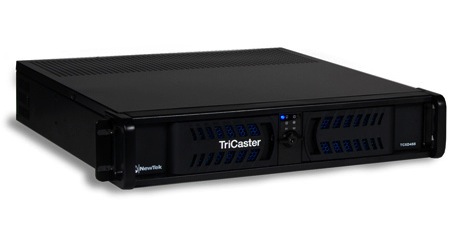 While the TriCaster 455 will make it look like you spent much more money on your event, it's our operators that really make the difference. Our crew has operated TriCasters for some of the biggest events in action sports including ESPN's X Games, Feld Motorsport's Monster Energy Supercross, IMG's Formula Drift as well as numerous other action sports events. We have the experience you need to produce a sophisticated live sporting event.
Best of all, at only $1100/day including operator, you'll have plenty of budget left over.
The NewTek TriCaster 455 offers:
14 channel live production, including 4 cameras
ISO recording of up to 4 channels of video
Integrated live webcast encoding to Livestream.com, Ustream.tv or many other CDNs
Two integrated video clip players (DDR)
Amazing visual effects, including customized wipes
Easy extension for live graphics
Of course, if your event needs more cameras, check out our TriCaster 855 Rental.
Contact Adrenaline Garage to reserve your TriCaster 455 today.