Why are live streams great for events? They take an on-site audience of several hundred or a couple thousand and grow that audience to tens of thousands, hundreds of thousands or millions. Why is that awesome? If what sponsors want is access to your audience, then live streams make your event exponentially more valuable.
And yet, many events with live webcasts are leaving sponsorship dollars on the table. This is happening because events spend the money to produce a broadcast, but for whatever reason, don't understand all the possible ways they can use it to create value. Live online broadcasts are a new frontier. As connected devices emerge and evolve, there is an ever growing number of ways for your audience to interact with your sponsors and create value in the process. We thought it was time to put together a list for event organizers so that they can get a handle on the current possibilities as well as a small glimpse of the future.
That said, all sponsors are different. One sponsor may care more about impressions while another cares more about messaging. The key to maximizing value is not simply using the latest technology, but customizing a package that precisely fulfills the sponsors needs. Choosing the solutions that best suit your sponsors and integrating that into your overall package will ensure that you maximize the event's potential.
This is only a start. A good producer will be able to generate even more ideas to suit specific sponsors while maintaining an engaging experience for your audience. Getting a producer involved before you've signed contracts will ensure that your event isn't leaving money on the table.
This segment, produced by Adrenaline Garage for ESPN's Winter XGames and Texas Pete shows how it's possible to combine many of the elements discussed here.
1. Branded Graphics
Graphics are the easiest way to incorporate a sponsor into a broadcast. Placement opportunities for sponsor logos include leaderboards and replay wipes. As these graphics are used frequently throughout your broadcast, you will generate a ton of impressions.


2. Interviews
Every event has downtime. Whether it's between rounds or before the event begins, there is always time when no athletes are on the course. This is the perfect opportunity to interview a sponsor's representative about their product or why they are involved with the event. Unlike banners, graphics and bugs, this allows a sponsor to really communicate their message to your viewers.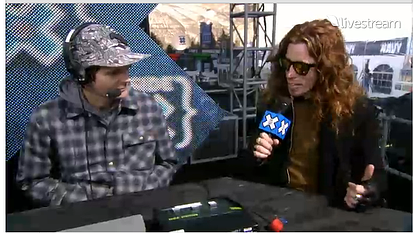 3. Branding the Video Player or Inserting a Video Bug
Every viewer sees the webcast player. It is your webcast's most valuable real estate. For sponsors that are more concerned with impressions than messaging, this is the best way to maximize their exposure.


4. Branded Video Segments
By creating entertaining video content for sponsors, you create more depth than placing a logo. We once shot a cooking segment with a couple athletes and included it between heats on behalf of an organic baking supplier. Be creative, make it entertaining and appropriate for your audience and you'll create a lot of value.
5. Branded Special Awards
Sponsors derive value every time their brand is associated with your event. To ensure that your sponsors are included in earned media before and after the event, include their name in the title of an award. My personal favorite is creating an Audience Choice award. When viewers vote for their favorite athletes they will inevitably interact with the brand, creating even more impressions.


6. Branded Applications
There are numerous ways to involve sponsors through emerging technology. Possible examples include branding a custom mobile application or fantasy league. Not only will it generate a lot of impressions, it will also encourage your audience to interact with the brand. For further engagement with the sponsor, promote the sponsor by exclusively hosting the application on their website.


7. Interactive Offers
Some brands will want to see proof that their sponsorship generated results. We've created a way for viewers to download coupons or vouchers directly through the player. If you can't afford that, have your announcers encourage your viewers to "like" your sponsor's Facebook page or go to a web site to sign up for a special offer.


8. Logo Loop
One of the most common ways to include sponsors in your production is simply including their logos onscreen while an announcer reads a scripted announcement. This associates your sponsors directly with your event.


9. Giveaways
Giveaways are a classic option for live events. In a properly executed giveaway, the event's host will have the time to go over the product's features, benefits and give a personal endorsement while heightening viewer interest through the promise of possibly winning. A giveaway can communicate the same information as a commercial while engaging more viewers and increasing the brand's credibility.


10. Including the sponsor logo in pre and post event content
At some events, we see as many combined hits on the related content as the live webcast itself. Including a sponsor's logo or 5-10 second commercial at the beginning of on-demand content creates a lot of value. (In case you're wondering why you should do a live webcast when on-demand content can get as many hits, the answer is engagement. We're seeing events where the average viewers watches for over an hour, generating 50-60x the number of impressions per hit for your sponsors in the process. If you loaded on-demand content with that much sponsor messaging, no one would watch it.)


11. Commercials
Commercials are incredibly popular with sponsors because a commercial's value is readily understood and measured. That said, we're working to make commercials even more effective by allowing sponsors to measure the exact number of people that watched each commercial. In addition, we are enhancing commercials to allow viewers to "like" a brand's Facebook page or take another action without leaving the webcast. In the future, we'll allow sponsors to target their commercials according a wide range of metrics.
To find other ideas about how to make your event more appealing to sponsors, download our FREE 20-page webcast strategy guide.
Please share with our community. What are some other ideas that you have to generate value for sponsors with live webcasts?