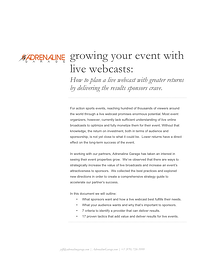 For action sports events, reaching hundred of thousands of viewers around the world through a live webcast promises enormous potential. Most event organizers, however, currently lack sufficient understanding of live online broadcasts to optimize and fully monetize them for their event. Without that knowledge, the return on investment, both in terms of audience and sponsorship, is not yet close to what it could be. Lower returns have a direct effect on the long-term success of the event.
Learn how to plan a live webcast with greater returns by delivering the results sponsors crave.
In working with our partners, Adrenaline Garage has taken an interest in seeing their event properties grow. We've observed that there are ways to strategically increase the value of live broadcasts and increase an event's attractiveness to sponsors. We collected the best practices and explored new directions in order to create a comprehensive strategy guide to accelerate our partner's success.
Download this free live webcast strategy guide and learn:
What sponsors want and how a live webcast best fulfills their needs.
What your audience wants and why that's important to sponsors.
7 criteria to identify a provider that can deliver results.
17 essential tactics that add value and deliver results for live events
Adrenaline Garage has increased webcast audiences by almost 4000% and been recognized as the world-wide leader in webcast quality. Find out how we did it and maximize the results for your live webcast.
Download 20 pages of tips, insights, best practices and additional resources to attract the most viewers and get the most return from sponsorships.