For most livestreams, the biggest single element that visually separates them from live TV broadcasts is the graphics. At this stage, the majority of prosumer grade equipment being used for online broadcasts is pretty good. Once compressed, a $5,000 camera is virtually indistinguishable from a $50,000 broadcast camera in most situations. Livestream-grade broadcast gear (e.g. TriCaster and 3Play) has reached the point where the people using it have more of an effect on the end result than the equipment itself. Frankly, I've seen control rooms in major league facilities (I'm talking about you, Qualcomm Stadium) that required a larger crew and more money to achleive far less than what's possible from a TriCaster 455.


Graphics systems have not kept pace with the rest of webcast gear
There is one very significant exception. Live streams rarely have graphics that stack up to what you would see on ESPN. In fact, many webcasts still suffer from graphics packages that scream low-budget. Since the quality of a graphics package dictates the perceived value of the production, sponsors don't always take live streaming as seriously as they should. While fans of our events lose it when their events are tape-delayed, especially when Supercross is delayed 12 hours to air on CBS, sponsors still see value in TV and all the fluff surrounding it. Why does this still happen? Why don't sponsors see the full value of live streaming? To paraphrase one of my friends who sells old media, "Why buy old media? Because anyone who's a badass buys old media."
No doubt, unless you are the marketing director for a discount brand, you want your sponsorship to say, "Hey look at us, we're a badass. Just look at the badasses we associate with." And lets face it, those generic static graphics that ship with your TriCaster are not badass. Once you've nailed the fundementals and have a solid product, nothing states you're a badass production like great graphics.
Bad Options for Aspiring Badasses
Have you experienced LiveText? Let me rephrase that. Have you found yourself in tears in the midst of a production because every graphic you created just disappeared when this cheap poorly built piece of crap called LiveText crashed just when you were trying to go live?
You're not alone. LiveText hates everyone's production equally.
The problem is, the available alternatives to LiveText are pretty pricey--a ChyronIP or Compix system costs almost as much as what you paid for that beloved TriCaster. And that doesn't include the cost of programming a custom graphics package.
At Adrenaline Garage, we tried a number of different options, but never expected the best one we found would be free. Yep. FREE.
FREE, as in Beer
CasparCG is an open source broadcast graphics platform. It was developed by the Swedish Broadcasting Corporation ("SVT") which is the license-fee funded public service television broadcaster in Sweden. And while in the US, when we hear public television, we think stodgy minimalist graphics that haven't been updated since the Clinton Administration, the fact is, SVT is really quite slick. SVT is more like the Ikea of public television than C-SPAN.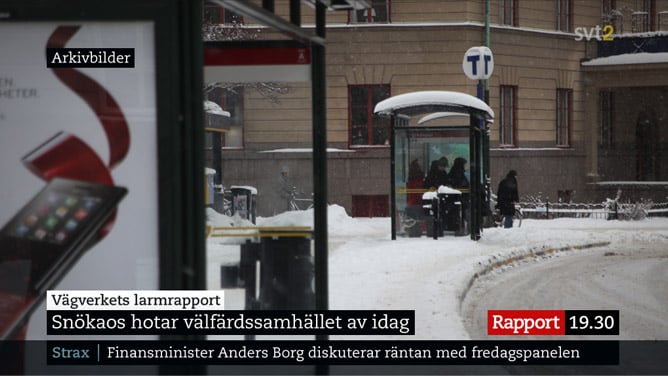 While you might not expect FREE software to be awesome, it's good enough for SVT to use on each of their six national channels. In our minds, we have not seen a competive product with such a complete, powerful and flexible feature set. And did we mention, it's free?
Feature Breakdown
Once we got over the free thing, we thought it was time to see how it stacked up against the competition. What we found was that CasparCG, due to it's open source nature, was powerful enough to handle any situation we could think of. In our case, we discovered needs we never knew we had, now that we weren't limited to one channel. And thanks to the powerful API, we had the tools to create custom graphics and graphic control clients for any situation we could imagine. For our needs, CasparCG destroyed its much more expensive competition.
| | | | | |
| --- | --- | --- | --- | --- |
| | LiveText | ChyronIP | Compix | CasparCG |
| Channels | 1 | 2 | 1 | Unlimited |
| Network Input | Yes | Yes | Linx Only | Yes |
| SDI Output | No | No | Yes | Yes* |
| Animated Graphics | No | Yes | Yes | Yes |
| Dynamic Data | Yes | Yes | Yes | Yes |
| Supports Alpha | Yes | Yes | Yes | Yes |
| Layers | 1 | Unlimited | 6 | Unlimited |
| Audio | No | USB | Embedded | Embedded |
| Internal DSK | No | No | No | Yes |
| Customizable Client | No | No | No | Yes |
*Optional
But how does it look?
As we were in the middle of Formula Drift season, we didn't have an opportunity to build a graphics package that would take advantage of all of the features of CasparCG. Since the FD graphics package is pretty complex as it was, we thought converting it to Caspar would be a good test. Here are the results:
Not only could CasparCG easily handle all of our dynamic graphics, it looks better, played smoother, was more reliable and easier to use than all of the options we've tried in the past. We quickly converted another event's graphics package to CasparCG with the same results. I don't think we'll be going back.
Getting a Turn Key Solution
The primary limitation of CasparCG is that while it is free, you still need hardware to run it, graphics designed and your graphics package programmed. Converting old graphics or building new packages is incredibly easy for any one who uses Adobe Creative Suite. However, most computers that come off the shelf at Best Buy would not make great CasparCG machines and definitely wouldn't have all the hardware necessary to take advantage of all of its great features. Moreover, while there are tutorials available for how to write the code for your own graphics, it's not for beginners, especially if you're hoping to incorporate dynamic data. In this way, CasparCG's power and flexibility is also its curse.
Fortunately, if designing graphics, building computers or coding is not among your strong suits, we at Adrenaline Garage can help. Let us build a custom turn key CasparCG setup for you... and save you $10,000 over another system. If you want custom badass graphics for a fraction of the cost, contact us for a quote.